New!
Listen to
FolkScene Sessions
Here
Paul Brady 8/1/2001 – 50min
John Gorka 2/27/18 – 50min
Janive Magness 2/27/18 – 56min
Tom Russell 4/15/17 – 59min
---
FolkScene can be heard on KPFK Los Angeles on Sunday evenings from 6-8:00 PM

CLICK TO LISTEN:
Visit the KPFK Archives
(under available shows, click Folk Scene)
Scroll down for more listening options.
FolkScene airs every Sunday from from 6 to 8 p.m. (PT) on
KPFK 90.7 FM in L.A.,
93.7, San Diego,
98.7, Santa Barbara and.
99.5, Ridgecrest-China Lake.
The show can also be web streamed by logging onto http://kpfk.org/ or listen live or by using your favorite smart phone app like Tune-In Radio or SHOUTcast.
Upcoming Programs
Coming to Folkscene Sunday, April 29 2018 is a newly recorded interview & performance with Chris Smither.
---
When: Sunday Nights 6pm on KPFK, various times on other stations. Since February 3, 1970!
What: FolkScene is a program of traditional and contemporary music featuring live folk music, interviews, remote recordings, and the finest in recorded music.
Why: FolkScene offers a medium for artistic expression without bias, and with a high level of integrity and influence. FolkScene has earned credibility and respect not only from the audience, but also from artists, record companies, and promoters as we educate and expose the general public to music from a unique cultural vantage point. …read more
Where: The radio program is heard on Pacifica Radio Station, KPFK in Los Angeles, California at 90.7 FM and in Santa Barbara at 98.7 FM, and many more Internet and earthbound radio stations.
Who: The program is hosted and produced by Allen Larman, Peter Cutler,  Kat Griffin, and Deborah Hand- Cutler with Roz and Howard's Loving Blessings, their spirit and presence with us in each broadcast, and engineered by Peter Cutler, DemoDoc Productions.
How: FolkScene is solely supported by your donations and purchases. Keep the circle unbroken, bringing you the music from the most dedicated and talented musicians around the world !
PRESS
---
All in the Larman Family with FolkScene
March 2018 – The Journal of Roots Music NO DEPRESSION  http://nodepression.com/article/all-larman-family-folkscene
---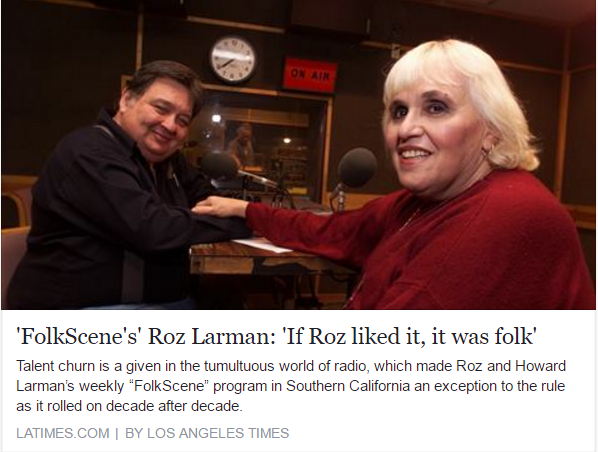 Click to read article

Support The FolkScene Archive Project.
Your donation goes directly to the development of the FolkScene Archives.
All donations are 100% tax deductible.
You will receive a charitable donation receipt for your contribution.
FolkScene is about to enter its 48th  year – February 3, 1970 – Feb 3, 2018
The FolkScene Archives need to be preserved so others can share in this musical journey.
You may donate via PayPal by clicking the button below, or send a check to:
FolkScene, Inc.
P.O. Box 707
Woodland Hills, CA 91365
archivesproject@folkscene.com
Thank You for your support!