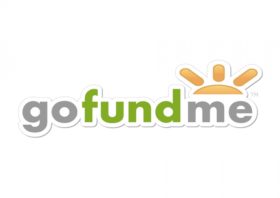 When Roz left us Monday, October 10th, it was quick and unexpected. Through our grief, we searched her office until the living trust paperwork was found. After more investigation, we soon discovered that her accounts were ravaged by her long-term care needs in 2014. Howard's careful plan to provide for Roz in his absence was successful up until Monday. Words will not sufficiently express our gratitude for your willingness to help give Roz the dignified cremation and memorial service she deserves.
Help spread the word!
Donate at GoFundMe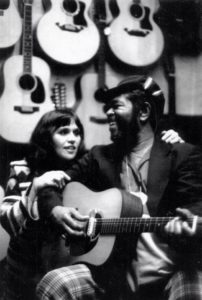 My mom, Roz Larman, passed way unexpectedly on October 10. It was a big shock to all. She had recently suffered a heart attack and a stroke, but her doctor expected her to recover. Roz and my father Howard dedicated their lives to presenting Folkscene. The passion and connection my parents had to the music was unbeatable. Roz was still scheduling guests up until her recent illness.
        Folkscene will continue as a collaboration between long time program engineer Peter Cutler, Deborah Hand-Cutler, Kat Griffin and myself. We plan to bring you the same quality programing that Roz and Howard brought you, which will include new interviews, live concerts and all of the latest new releases. Please check back to this website for updates on the radio show.  We'll also have a Go Fund Me link for those of you who wish to be a part of the solution to help meet some of the expenses in celebrating Roz's life.
Cheers,
Allen Larman
More on Roz's Facebook page
FolkScene can be heard on KPFK Los Angeles on Sunday evenings from 6-8:00 PM

CLICK TO LISTEN:
Visit the
KPFK Archives
(under available shows, click Folk Scene)
Scroll down for more listening options.
New Audio Selections
from Folkscene programs!


Added 11/17/13: Antje Duvekot, Cheryl Wheeler with Kenny White, JC & Laney,
Jim Kweskin & Geoff Muldaur, Sligo Rags, Stephen Bishop



August 2015 – Link added to FolkWorks.org CALENDAR, plus Playlist updates will now be kept current.
March 2015 – We welcome KFEE.net and CannonRadio.net to our station list!

FolkScene Radio Program

When:
Sunday Nights 6pm on KPFK, various times on other stations. Since February 3, 1970!
What:
FolkScene is a program of traditional and contemporary music featuring live folk music, interviews, remote recordings, and the finest in recorded music.
Why:
FolkScene offers a medium for artistic expression without bias, and with a high level of integrity and influence. FolkScene has earned credibility and respect not only from the audience, but also from artists, record companies, and promoters as we educate and expose the general public to music from a unique cultural vantage point. …read more
Where:
The radio program is heard on Pacifica Radio Station, KPFK in Los Angeles, California at 90.7 FM and in Santa Barbara at 98.7 FM, and many more Internet and earthbound radio stations.
Who:
The program is hosted and produced by Roz Larman with Howard's Loving Blessings, his spirit and presence with us in each broadcast, and engineered by Peter Cutler, DemoDoc Productions.
How:
FolkScene is solely supported by your donations and purchases. Keep the circle unbroken, bringing you the music from the most dedicated and talented musicians around the world !