I'd like to join my colleagues at FolkScene in welcoming you. We have many great features planned for the future that we know will keep you coming back regularly to stay informed about the music, the musicians, their recordings, performances, and much more!
Over the years of my association with FolkScene, I am often asked how I came to be involved with the program and why I have been here for the last forty years. For me, it started back in 1973 when I was still in high school. I had always been interested in both music (especially acoustic music) and radio. I started playing guitar at the age of seven and even then could play a pretty mean version of "Where Have All the Flowers Gone." By the age of twelve, I was hosting my own pretend radio shows out of my bedroom. The family cat was my somewhat indifferent audience. At thirteen, I was taken down to KPFK-FM for the first time and immediately fell in love with all the dials, microphones, and blinking lights. Even then I  had a strong desire to learn how to run it all! At fifteen I was on the air with a Sunday "board shift" which just happened to put me right in the path of Howard and Roz Larman and FolkScene, which ran on Sunday evenings. My earliest memory of FolkScene was watching Howard interview folk music legend Rosalie Sorrels and from that point forward I was HOOKED. Soon, I was running the board for FolkScene, playing the records (you remember those, right?) and hitting the switch which put FolkScene on the air to listeners all over Southern California. I was in heaven!
Soon, I became involved in the live music portion of the program, helping engineer Alan Kanter set up microphones in the studio for such '70s legends as Randy Newman, Tom Waits, Maria Muldaur, Janis Ian, Kate Wolf and many more. Once a year, we would all journey down to San Diego State University to record the San Diego Folk Festival, live to 2-track tape. (No "fixing it in the mix" for us!) We had a "portable" Scully tape machine the size of a Buick, a bunch of cables and microphones, and an unending supply of enthusiasm and energy. We didn''t sleep for four solid days and we always had a fantastic time! Ah, youth.
Eventually, I took over the live segment, doing all the setup and mixing myself. I've been at this for over thirty years now, learning as I go, trying many techniques and new pieces of recording gear along the way. When I listen to tapes of the show from 1970 to the present it is an amazing journey, traveling through the history of recording  for the last forty-three years.  Though equipment and techniques changed a lot over the years, the standard had been set very early on by Alan Kanter, who taught me how to "bring it back alive," meaning to retain the natural "woody" sound to the music and to flatter instruments and voices, not merely reproduce them. Alan taught me that the engineer is very much a part of the creative process in the studio, not simply a "knob twister." Credit also should go to our good friend, the late Steve Barker of BBAT productions, who used to provide much of the equipment needed to make Folkscene happen each week from the late 1980's until 2007 when we lost him.   I am still using a lot of this wonderful gear! In addition to supplying equipment, Steve mentored me for many years in the art of live music recording, building on top of the solid foundation that Alan Kanter laid in earlier years.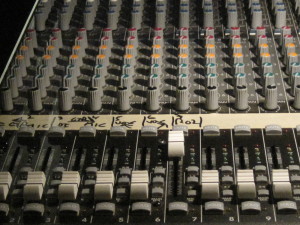 Forty years later, I am still sitting behind the board, just as enthusiastic and energetic as ever. Ask anyone who has watched me work … I am an unstoppable force of kinetic energy. Better keep out of my flight path or you're liable to get mowed down! I have absolute tunnel vision when I am working. My hands and ears are synchronized as I step INSIDE the music that pours out of my headphones and speakers. I have never even considered NOT doing this program. It is as much a part of my life as breathing.
For many years, we did the program live. What happened in the studio spilled out into people's homes at that moment. This was  completely terrifying but ultimately very satisfying. A lot of great mixes were made this way, believe me! Working "without a net" really teaches you what is important, musically and aesthetically. You have to make split-second decisions that can render the program either a wonderful success , a tragic failure or something in between. All of the recordings on our three volumes of "The Folkscene Collection" on Red House records were done this way. Listen to those albums closely and you will undoubtedly hear small mix corrections happening throughout each song. The pursuit of audio perfection!  Nowadays, we still do the show in real time, as if we were live, but we have the luxury of pre-recording at The Long House Studio, owned by our great friend and benefactor, Wendy Waldman. The musicians love this because, on the off chance that they should break a string or forget a lyric, it is now possible to stop and do another take. This doesn't happen very often but when it's necessary, it is a Godsend.  And we now record the show in multitrack form into a computer workstation.  The live mix that Roz hears in her headphones during the session is never heard on the air. I get to take the tracks back to my studio in Tehachapi, Ca and remix  and master them to my satisfaction. I can't begin to express how much I LOVE THIS!! Much of the time, I am not as familiar with the music being played in the studio as I would like to be. I don't always know who is going to play the next solo in the tune, the dynamics of the tune, the microphone techniques of the  performers, the sounds of their individual instruments etc. A song or two into the show and I've pretty much figured it out but, still, I rarely get the sound I am looking for in the moment. Now, I get as close to that elusive perfection as possible while still capturing a live performance in the moment.Certainly, this is the best of both the worlds of live performance and studio recording.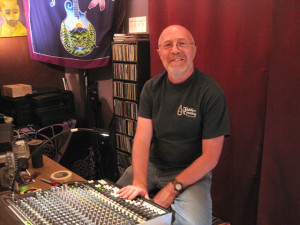 The truth is, really, that I love the music, the people who make the music, the challenge of capturing it all live and, of course, Roz Larman, herself. I have never seen anyone work as hard or be as dedicated to anything as Roz. Her knowledge of the music, and the folks who perform it, is immense. She is unique as a  radio programmer and folk music historian; as a human being, she will never be equaled.
Howard Larman passed in 2007 and we still feel his loss greatly with every program we do. What would Howard ask of this guest? What song would he want to hear them do? What wonderful insights would he add to the interview? Speaking for myself, I feel both his and Steve Barker's presence keenly as I record every show. They are both sorely missed.
I am very excited about the new FolkScene.com and all the opportunities and challenges before us. I will be contributing to it  often by posting audio clips of recent programs here under the "audio" menu.  If you have any comments or questions about the recording and production of the program or would like to request that I post a particular artist or song, please write me at demodoc@bak.rr.com  I promise to respond as soon as possible and will do my best to answer your questions and post your requests.
I  look forward to hearing from and getting to know you, our listeners and supporters.
"The Music Continues" 1970-?
Peter Cutler
demodoc@bak.rr.com
Folkscene Engineer
May, 2013