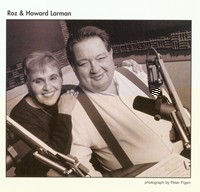 WE LOVE and MISS YOU!
Howard eloquently broadcasted to us for 37 plus years. Howard passed away and though he is with us in every broadcast, through our recordings and all of our future broadcasts, we will miss him dearly. We are forever thankful for everyone's well wishes and loving support extended toward us Larmans and FolkScene. Now with Roz at the helm, we're onto many fabulous seasons of FolkScene!
…………………………………………………………………………………
Here are our FolkScene friends from left to right Phil Parlapiano,
Steven Barker (we'll miss you Barker – peace be with you),
Roz and Howard, Eric Lowen, Dan Navarro and Peter Cutler.