Original article: 
 http://nodepression.com/article/all-larman-family-folkscene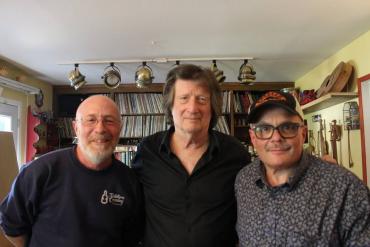 Many years ago at California's Strawberry Music Festival, I noticed a cute little older couple who seemed to know every major artist playing the festival. I found out they were Howard and Roz Larman, legendary hosts of FolkScene on Los Angeles' KPFK, and they were just as sweet and unassuming as they looked. Their son Allen carries on the family tradition.
Bill Frater: Where and when did you start in radio, and what other stations have you worked at?
Allen Larman: I started working in record stores shortly after finishing high school. My parents had already begun doing their FolkScene radio show at KPFK around 7 or 8 years earlier. Eventually, I got my nerve up to ask their board operator to show me the basic skills in operating the equipment. My first gig at the station was being the engineer for the legendary Johnny Otis on his program, an assignment I volunteered to do. He was a true musical hero. I hosted the Red Hot Show on KCSN radio starting around the early '90s. The format focused on rockabilly, with a little blues, country, and soul thrown in for good measure. That ran for around 10 years. Next, I did an internet radio show for a few years on LuxuriaMusic, which was a mixture of roots, punk, and garage rock.
Where do you work now? 
I've taken over the program FolkScene that was started by my parents in 1970. It is heard on Sunday evenings from 6 to 8 p.m. PT on KPFK 90.7 FM in L.A.; 93.7, San Diego; 98.7, Santa Barbara; and 99.5, Ridgecrest-China Lake. The show can also be streamed and we're on Facebook too! Folkscene's longtime sound engineer Peter Cutler is still on board. Plus, our wives, Kat Griffin and Deborah-Hand Cutler, are also contributors to the broadcast.
How do you describe your show?
Folk and roots related music. My mom used to say, "If Roz likes it, it is folk music." We present a weekly show with a guest segment, which includes both music and conversation and sometimes a live concert. What is unique about FolkScene is that all of the the artist's segments are close to an hour in length. These features are either culled from our vast archives or something that was recently recorded. Some of studio guests that my parents had on the broadcast throughout the years include Richard Thompson, Tom Waits, Randy Newman, Leon Redbone, Pete Seeger, the Chieftains, Mance Lipscomb, Jimmy Buffett, Dave Alvin, Rose Maddox, Merle Travis, and many, many others. More current shows that Peter and I have presented include David Bromberg, Janiva Magness, Phil and Dave Alvin, Dustbowl Revival, Bobby Rush and Vasti Jackson, Jim Kweskin, John Gorka, Chris Smither, and Tom Russell.
How do you prepare for your shows?
Kat, FolkScene's co-producer, and I split the responsibilities of picking out the music. I usually spend a few hours sorting out the tracks and try to figure out what makes sense to go together. Once in a great while, we'll feature an artist coming to town.
Do you play many new releases or  independent artists? 
Due to the feature presentation, we only have an hour to play recorded music. Our main focus is new releases. I try to occasionally throw in some older classic sounds. Not too long ago we aired a session with Dwight Yoakam from 1985 and I followed it up with a really long set of classic country music. We play a fair share of independent artists, along with the more established ones.
What was the first artist or album that got you into roots music? 
My first love was blues music. My parents had a huge record collection from which I discovered many legendary artists like Magic Sam, Charlie Patton, Robert Johnson, John Lee Hooker, and many more. A little later my tastes expanded to other roots genres such as country, rockabilly, and soul. I can still remember hearing Hank Williams and Bob Wills for the very first time. Plus, I was extremely lucky that my folks would drag me along with them to live concerts at venues like The Ash Grove. Seeing performers like Lightnin' Hopkins and Clifton Chenier were life-changing experiences. My parents didn't remember most of these gigs and were always surprised that I hadn't forgotten these experiences.
Who are your favorite artists from any genre?
This a tough question. My favorites change all the time and also some of the musicians I like are not suitable for FolkScene. Artists I highly revere include Hank Williams, Howlin' Wolf, Merle Haggard, Bob Dylan, Bob Wills & The Texas Playboys, Lefty Frizzell, Johnny Otis, Chuck Berry, Willie Dixon, The Rolling Stones, Jimmie Rodgers, The Cramps, Etta James, Memphis Minnie, Buddy Holly, Iggy and The Stooges, The Ramones, The Blasters, O.V. Wright, James Carr, Charlie Feathers, Dolly Parton, Bill Monroe, Arthur Alexander, The 13th Floor Elevators, Bobby Blue Bland, Sam Cooke, Doug Sahm, Tom Kenny & The Hi-Seas, Dan Penn, The Sonics, Little Richard, and Fats Domino.
What artist defines Americana music for you?
A current artist who I think defines Americana music is Dave Alvin. His music is influenced by many different roots genres, such as folk, blues, country, rockabilly, and rock and roll. Not only is he one of the best songwriters and guitar players out there, he is also an amazing interpreter of other people's songs — something he doesn't enough credit for.
How do you define what Americana music is?
Americana is such a broad term. The true meaning is debatable. I would classify it as roots music, which could include a lot of different idioms that became the foundation for popular music, like folk, blues, country, soul, rockabilly, western swing, and gospel.

Where do you see Americana radio going in the future? 
Americana will always be popular. I don't see commercial radio stations ever embracing the sound. Thankfully public radio and internet stations pick up the slack. The audience potential is now limitless due to web streaming and podcasting.
What are your most memorable experiences from working in the music industry?
Having the opportunity to meet so many legendary musicians that have appeared on FolkScene, like Merle Travis, Rose Maddox, Roger McGuinn, Tony Joe White, Bobby Rush, Sonny Terry, and Brownie McGhee.
What recent albums are you excited about?
Chris Smither's Call Me Lucky, Love Is An Army by Janiva Magness, Susanna Van Tassel & Dave Gonzalez have one called Think We're Gonna Be Alright, and Rick Shea's The Town Where I Live. Two upcoming releases I am eagerly waiting to get my hands on are Dave Alvin and Jimmie Dale Gilmore's Downey To Lubbock and Ry Cooder's Prodigal Son. The advanced tracks I've heard from both of these recordings are marvelous.
What projects are you working on next?
I'm working on getting more performances from the program released commercially. Last year, Omnivore Records released, Peter Case's On The Way Downtown: Recorded Live On FolkScene. I'm also applying for grant funding to preserve the FolkScene archives and digitally transfer our massive tape library.

What inspires you or what keeps you going? 
The desire to keep my parents' legacy going on and honor the work that they devoted their lives to. Plus, all of the positive feedback from the listeners.